This spring and summer We Rise delivered a series of workshops that piloted a new approach to engaging young people from disadvantaged backgrounds in the challenges and opportunities of the climate crises.
Many organisations find it challenging to engage this demographic. We work carefully with our partners to plan sessions that benefit young people. They gain insights, inspiration and meaningful experiences that empower them to make informed choices about their future career.
Our innovative and unique approach for this climate action plan engagement was to make the activities appealing to the diverse group of young people we wanted to reach by giving them career inspiration + insight in a contextualised and accessible format.
There will be many interesting and rewarding jobs in the future green economy. The opportunity to open up young people's horizons to these roles and the skills needed is a win-win situation for everyone.
What we did
In partnership with ARUP, and supported by funding from RG Foundation, we formed a collaboration to pilot a programme that aimed to reach and engage the often underrepresented young people in Brixton with issues around sustainability and climate action in ways that would be meaningful and immediately beneficial to them.
The sessions were activity based and incorporated the kind soft skills needed to succeed in the world of work. Young people leave having had an experience that contributes to a better 'personal statement' and will have more chance of getting to the next level of training or education – the kind of 'leg up' that young people from disadvantaged backgrounds often need.
The workshops
1. Circular Fashion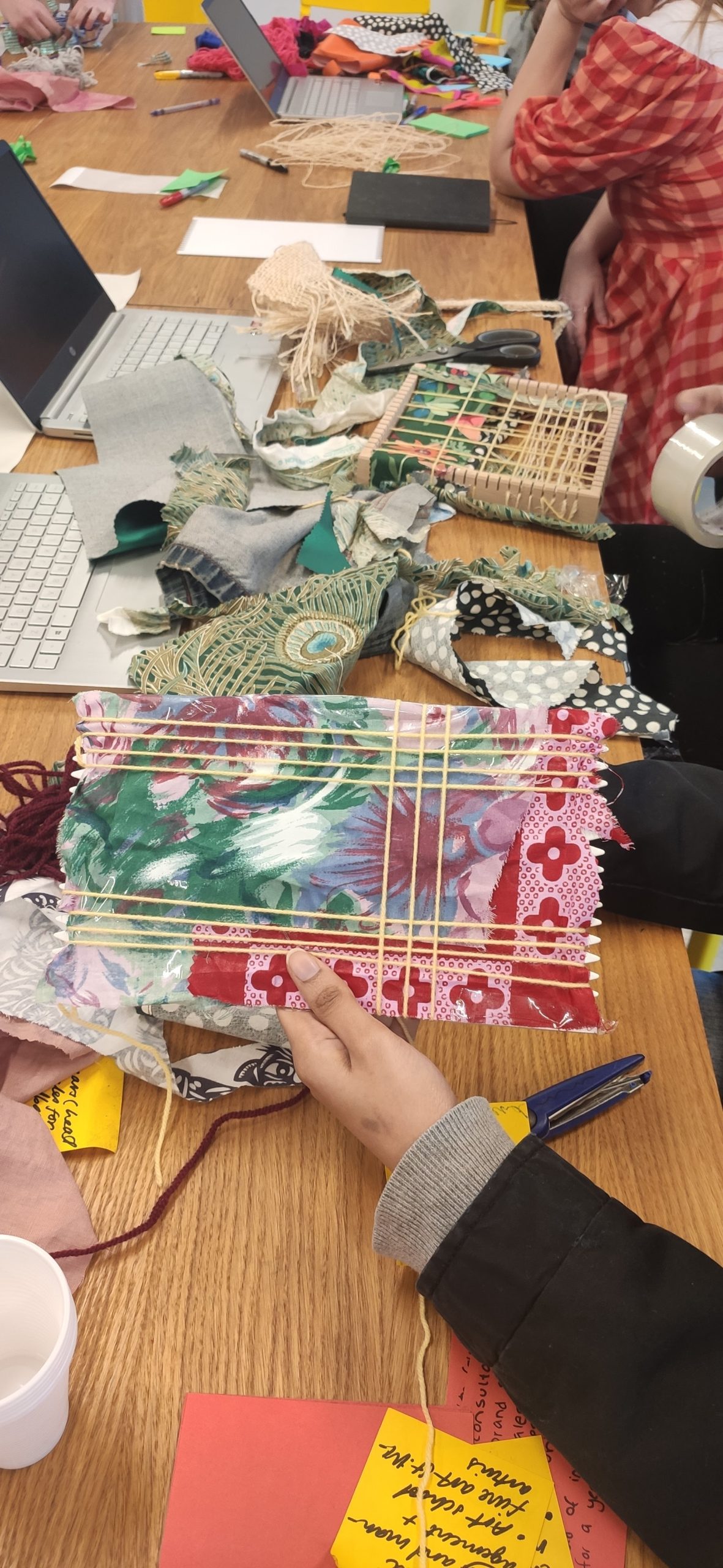 Our circular fashion workshop in March 2022 involved nine young creatives and three experts from different parts of the fashion industry: Bobbi Bozhikova from Ilana, Michelle Noel from MNN Agency, and Nellie Blake – a current student at Chelsea College of Arts.
The group spent some time thinking about the full lifecycle of a fashion product, from where the materials come from, to the branding, sale and end-of-life treatment. They thought about the different job roles involved at each stage of the process and worked out how much power over the sustainability of the product each job role had.
The second activity focused on each young creative's idea for their future job role that can help make the fashion industry more sustainable. Using scrap material they wove their own tartan representing this job role, with their choice of materials reflecting what they bring to the role in terms and their influence on sustainability.
2. Building Retrofit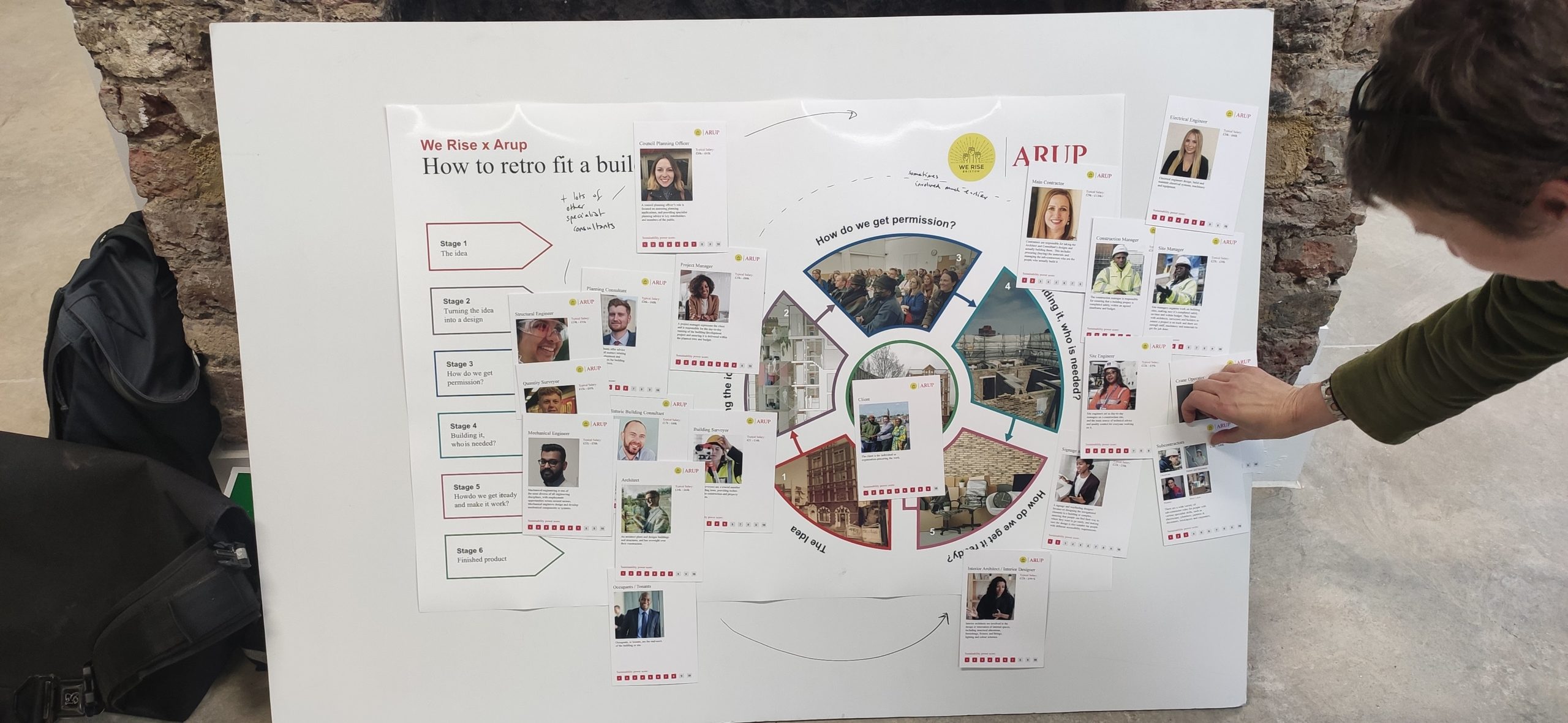 The workshop involved the following elements:
Attendance from professionals with different roles in the built environment sector – Zac and Jamie from Zac Monro Architects (who led the refurbishment of the Carlton Mansions site), Paul Goodenough from Galliford Try (lead contractor for the Brixton House/Carlton Mansions site) and Edith Blennerhassett, Richard Hughes, Jenny Pattison and Federica Greco – all engineering consultants from Arup.
Opportunities for the young people to ask questions about careers, jobs and the industry allowing them to learn the many and varied roles involved in the (retrofit) construction industry, the skills, average salaries and influence over sustainability that each has.
Interactive and practical activities to find out more from the experts in the room. After some soft skill activities between the professionals and young people we had a tour of the refurbished building with the Architects and Contractor, which brought to life the exciting transformation the building had had and some of the key processes and facts behind the process. We also ran a quiz based on which roles were involved at which stages of the project.
A thread throughout the session plan linking to the urgency and possibilities around climate change and a sustainable future…
3. Sustainable Food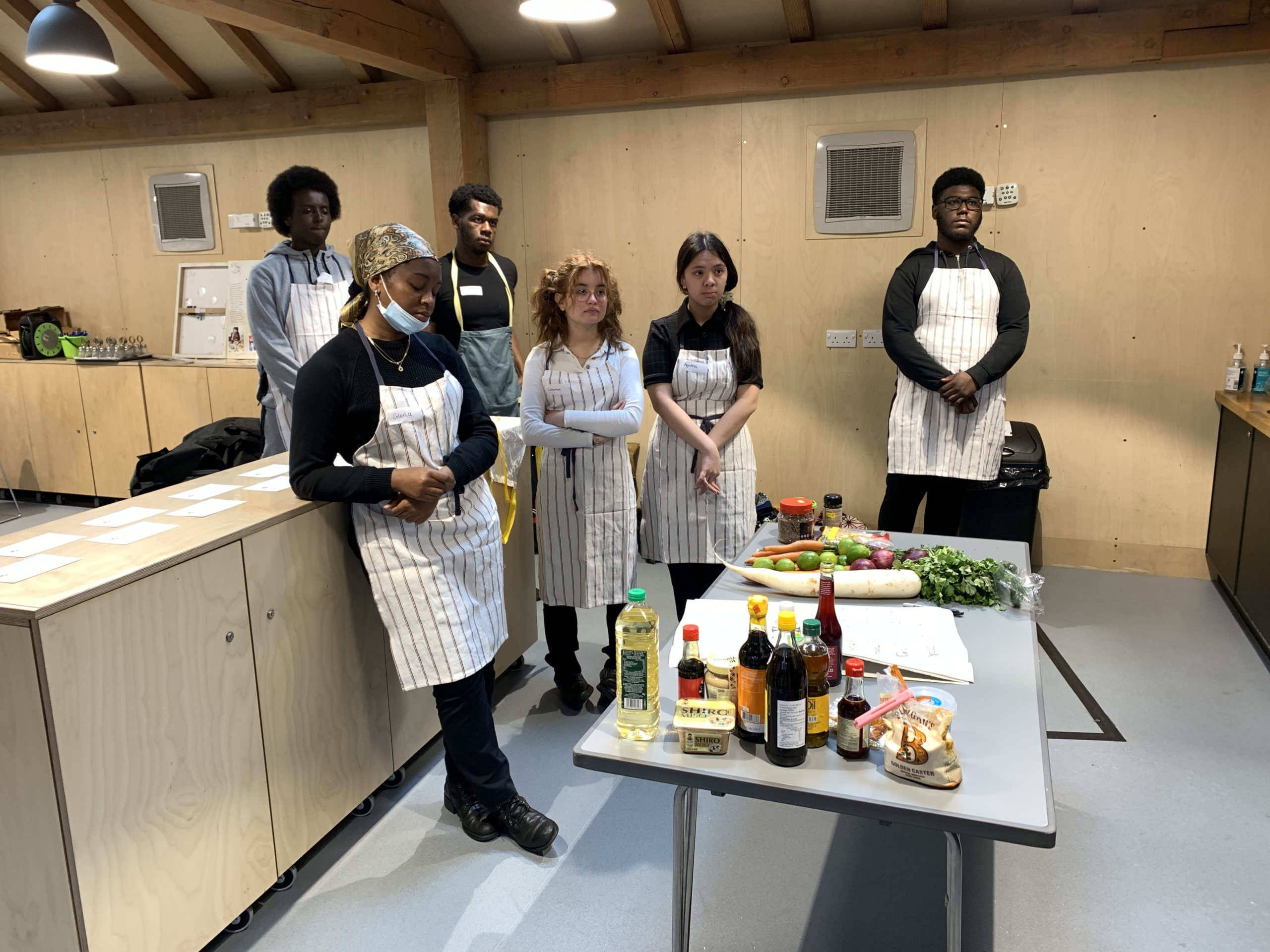 Our sustainable food workshop was held on 29th April 2022 at the Brixton Windmill education centre. Six young people attended, and the workshop was co-led with Hugh Atkinson from Sourplum Food; a local authentic Malaysian pop-up and catering service.
Hugh shared insights into his challenges as well as successes, and tips for anyone thinking about following a similar route into catering. Arup's, Stephanie Robson talked the group through the impact of the food industry on our planet. Following a demonstration of how to prepare it, participants were given 10 minutes to plan their own take on the noodle salad, in pairs – considering the different available ingredients in terms of tastes and textures but also environmental impact. This exercise was aided by specially prepared cards for each ingredient outlining key environmental impact metrics (greenhouse gas emissions and water). Once complete, the young people presented their dish and the thought process behind it to the group. Each dish was tasted by Hugh, with a positive verdict on every single one. 
What young people gained  
Putting issues around sustainability into real life contexts was relatable for the young people.
Hearing from Paul Goodenough (Contractor at Galliford Try) that it takes more energy to run a toaster than the lights in the whole of the retrofitted Carlton Mansions building was a big take away.
Leah, a Year 11 student commented 'There were many different professions to explore and go into apart from the Architects,  Contractors and Builders.' 
The pilot workshops that we ran for the white paper helped a total of 13 young people but through the publication of our White Paper we hope it will impact many many more.
Moving forward
We created these workshops as a response to the poor level of existing consultation with local young people and the missed opportunities to engage them in the decision making processes instigated by their declaration of a Climate Emergency – which would impact their local communities and spaces.
We felt that with the right combination of expertise and a less narrow set of tick box outcomes for public consultation like this, we would leverage the process and make it infinitely more valuable to everyone involved.
We have published a White Paper that we plan to share widely so that it will influence how Local Authorities and Government departments engage YP in the future.
Some of the key findings included in our White Paper are:
Use strong and effective partnerships that combine those with the expertise in how to engage young people and those with a knowledge of the topic.
The benefits to the young people must be the common thread. It has to be more than just a consultation exercise in order to attract those from disadvantaged background. It should be activity based, an opportunity to practise soft skills with a narrative that introduces pathways into career options.
These were pilot workshops and should be seen as the starting point of longer term engagement processes that connects disadvantaged young residents with the organisations tasked with dealing with the climate crisis in meaningful and effective ways.