This summer a team of 15 young people worked with ELEVATE! (Lambeth's Cultural Education Partnership) to research participation in and attitudes to arts and cultural activities. Their work provided "incredibly useful" information and the reach and depth of the research exceeded our clients expectations.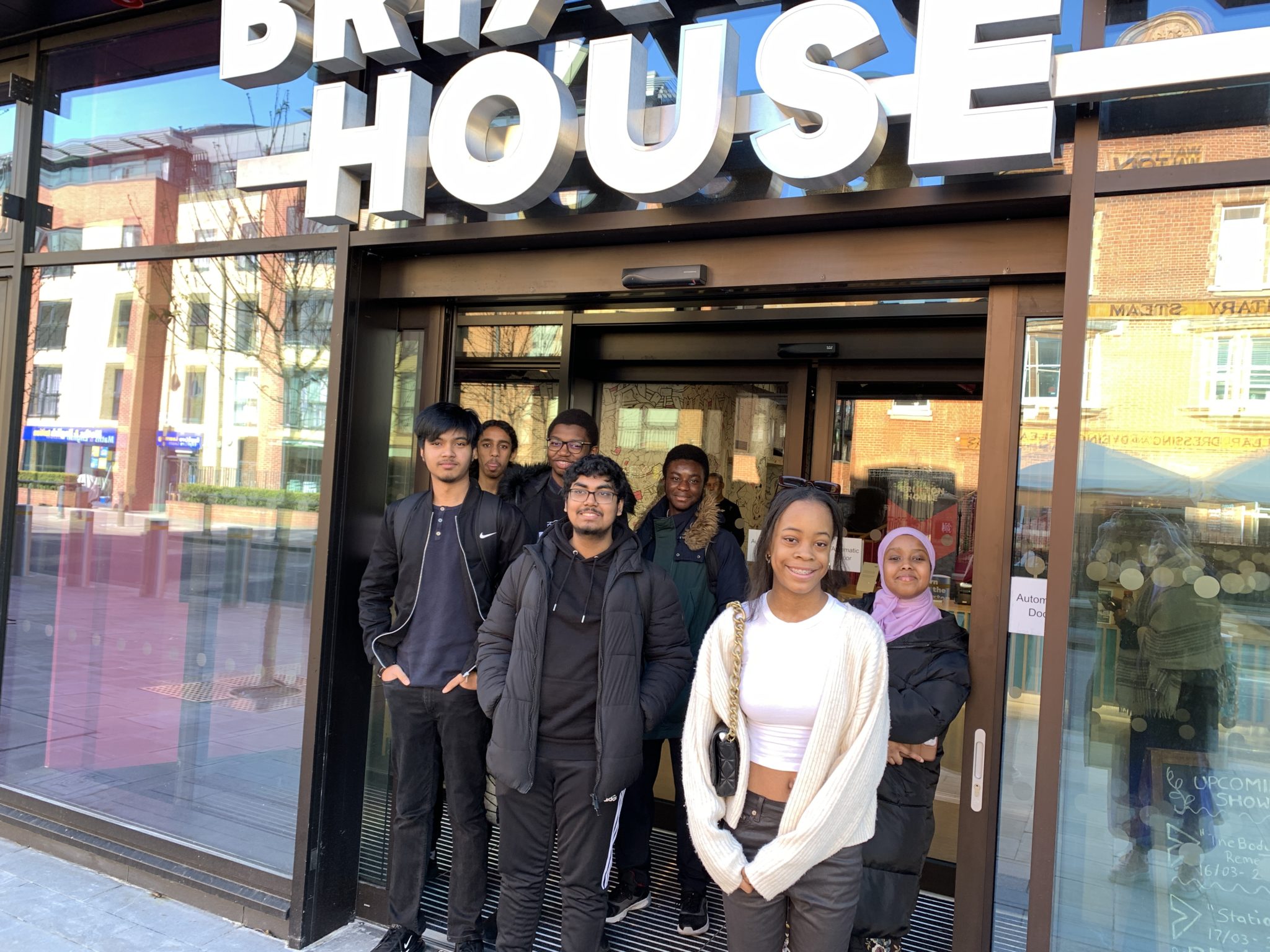 Our Client
We Rise was commissioned by Lambeth's Cultural Education Partnership ELEVATE! to map provision of and participation in cultural and arts education activities. ELEVATE! is Lambeth's mission to open up the creative and cultural sector to every young person in the borough.
Catalysed by Lambeth Council, with a network of creative, community and youth partners, ELEVATE's vision is for a future where everyone can benefit from a rich, dynamic and diverse cultural environment.
ELEVATE's collaborative network is managed by Alice Edwards from Lambeth Council but spans many different cultural organisations. We worked closely with Caroline Boury from Boury Academy, a Kennington based performing arts school and Marsha Lowe from the creative production agency Oxygen Arts to design the research.
The Brief
Our clients had lots of different questions they wanted to answer.
First, they wanted us to carry out a mapping exercise to find out what arts provision is available, who is providing it and how it is funded so we can identify where the gaps are. They wanted this research to map what is currently going on and provide a baseline to measure future progress.
Second, they wanted to know how young people are accessing arts and cultural activities and if they aren't then what are the barriers to participation and what can be done to help break them down
Finally they wanted to understand if young people and educational institutions value creativity and understand the link to future creative careers.
What we did
We Rise recruited a team of 15 Lambeth based year 12 students who worked, with coaching from We Rise and volunteers from global research firm IPSOS, to design, conduct and analyse the research, which was carried out online and face to face in the summer of 2022.
Young people created four different 'Culture Check" surveys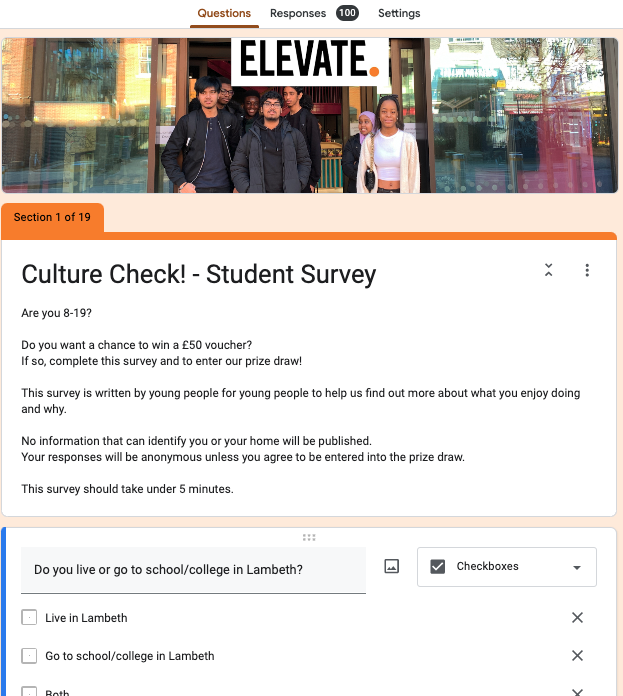 Our client wanted to hear from four distinct audiences so the young people worked in two teams to create a different 'Culture Check' survey for each of the four audiences:
Young people
Parents
Schools
Cultural Organisations
The surveys were carefully targeted and shared with the different audiences via emails from ELEVATE! and from We Rise in May and June 2022. The We Rise team of young researchers also undertook additional face to face fieldwork at events in Brockwell Park.
In July we brought the team back together to analyse the data. This was a complex task because there were four different audiences and we were asking young people to do a combination of data mapping and analysing behaviour and perceptions. Our young team was incredibly impressive and rose to the challenge.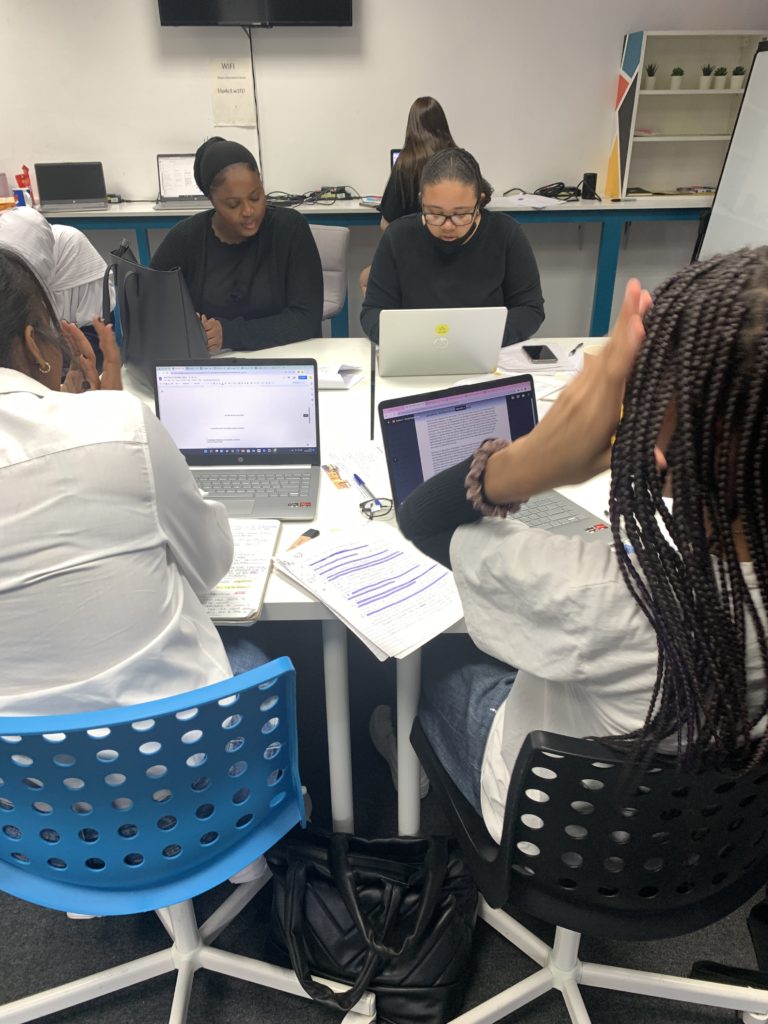 The team worked out how to map all the schools and create different layers to show the different cultural activities each school offers. This was an important part of what Lambeth asked for – an interactive map showing which schools are engaged in which creative activities.
Young people created an interactive map which will be a great resource for ELEVATE! to use to support schools
This map will be a great resource for the cultural partners involved in ELEVATE! who will be able to build on this map as they support and engage more schools in delivering arts and culture for their students and families.
The team also produced a detailed report for ELEVATE! where they analysed and presented the key findings from all the different audiences. Important messages emerged from the research which will help ELEVATE! focus its activities and measure its future impact.
What our client said
Our client Alice Edwards was extremely positive about her experience of working with We Rise.
She said "ELEVATE approached We Rise with a complex request to help us better understand how Lambeth schools are engaging with cultural activity. We Rise listened, understood our needs, and used their expertise to help us work out the best way to get the information we needed."
Lambeth young people designing and leading the survey led to greater reach and depth of learning than we'd expected
"We Rise worked with Lambeth young people to design and lead the survey. This approach led to a greater reach and depth of learning than we'd expected, and also aligns with Lambeth Council's aims to have young people at the heart of decisions that affect them."
"The data and analysis we received was incredibly useful and has enabled us to hone the programme and understand how we can best collaborate with schools."
I would recommend collaborating with We Rise – they bring professional expertise and access to talented young people who bring energy, ideas and new perspectives.

Alice Edwards, ELEVATE!
What young people gained
As well as delivering a great result for their client our young team enjoyed the project and gained excellent experience. In particular it improved their confidence and team working. 100% of the team would recommend We Rise to a friend.
The project has improved my confidence and team working
Yakira enjoyed creating the survey the most as it was "a new task that I had never done before." She said the project improved her "confidence with public speaking and how to form business related relationships."
Tarick enjoyed "Interacting with people" and said "the project has helped improve my confidence and team working".
Zahra enjoyed "Working together in a team" She learnt "More about organisations and how to develop relations with others". Zahra has great leadership skills but she gained important learning about herself that she should " listen to others more to ensure better results".
Working with We Rise allows you to be creative and inventive
Luana enjoyed "meeting new people " and gained knowledge about "how to reach other people efficiently" She said "my team working skills have improved" and she learnt that she is a "very proactive person".
She would recommend working with We Rise because "it allows you to be creative and inventive".
Congratulations to our ELEVATE! Research Team:
Tarick Nketia, Zahra Yalahow, Abdula Adam, Luana Semedo Tavares, Davinia Matu, Jonathan Owusu-Ansah, Ehsan Haque, Mohammed Rahath Islam, Yakira, Nusayba, Jemeo Serwadda, Manaal, Laila Palmer, Emily Archbold, Amy Degabriele